Juan Cole
Palestinian journalist
Rula Jebreal
points to the overwhelming bias in US media against the Palestinians, calling NBC to account for having tried to remove an Arab-American reporter from Gaza after he reported the Israeli navy's deliberate killing of children on the beach. She also points to the stranglehold the American Israel Public Affairs Committee lobby has on congressional politics toward Israel. She doesn't mention but should the pressure organizations like CAMERA, well-heeled and powerful fanatics devoted to punishing American journalists who tell the truth about Israel and Palestine. I actually think NBC is better than some others on this issue, so it is a little unfortunate that they should take the brunt of Jebreal's understandable frustration.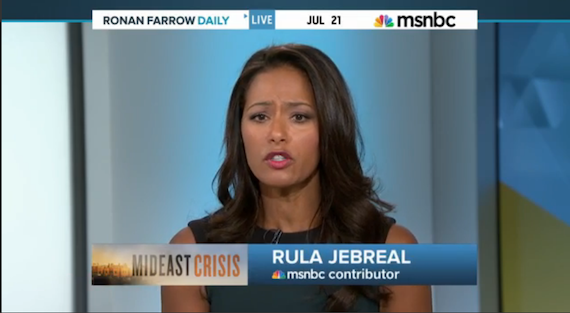 I don't think either of the people she was talking to understood the problem. The show begins with Israeli PM Binyamin Netanyahu and promises more of him. No Palestinian leader is interviewed or apparently considered for an interview! It is alleged to Jebreal that her being allowed to complain on air at all is a mercy (she isn't actually allowed to say much about the war). It is also alleged that just reporting on all the children the Israeli military has killed is somehow even-handed; in fact if the killings are represented as necessary that isn't true. Almost no US media admits that indiscriminate fire in civilian areas is a war crime. (Rula comes in at about 7 minutes, below).
Be the Change! Donate Today!